SEND YOUR NAME ONBOARD AzaadiSAT
GLTS Collaboration Partner SpaceKidz has organized a wonderful opportunity for you to send your name to space through Satellite Launching.

Welcome aboard the SKI AZAADISAT, SSLV D1!!!!

"AZAADISAT" IS A SATELLITE MISSION WITH THE AMBITIOUS VISION TO ENCOURAGE GOVERNMENT SCHOOL CHILDREN (FROM ECONOMICALLY WEAK BACKGROUNDS) WITH THE BASIC UNDERSTANDING AND KNOWLEDGE OF SPACE AND TUTOR THEM TO BUILD A SMALL EXPERIMENT AND LAUNCH IT TO THE EDGE OF SPACE THROUGH A "BALLOON SATELLITE" OR THROUGH AN "ORBITAL SATELLITE".

Submit your name, it will be included on a micro chip that will fly aboard AzaadiSAT-SSLV D-I.
We are thrilled to take you on a flight around the Earth. You will experience G forces, and zero gravity be prepared. You can hardly sleep as you will be watching the Sun and Moon alternatively. Fasten your belts, take a deep breath, and be prepared for a ride of a lifetime.

CLICK HERE TO FILL UP THE FORM NOW!!!
 Driven with a mission to disrup the mundainity of the education system, DR. SRIMATHY Kesan has broken ground in a hitherto uncharted avenue called "Space Education", through her unique programs, aimed at grooming future scientists.  Her unique goal is to lay the foundation for a world renowned space university.
GLTS & Spacekidz Activities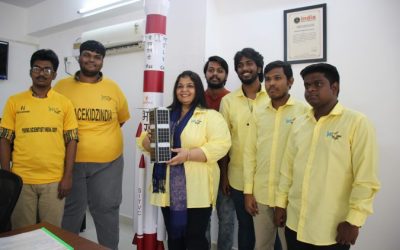 Stay with a Positive Community