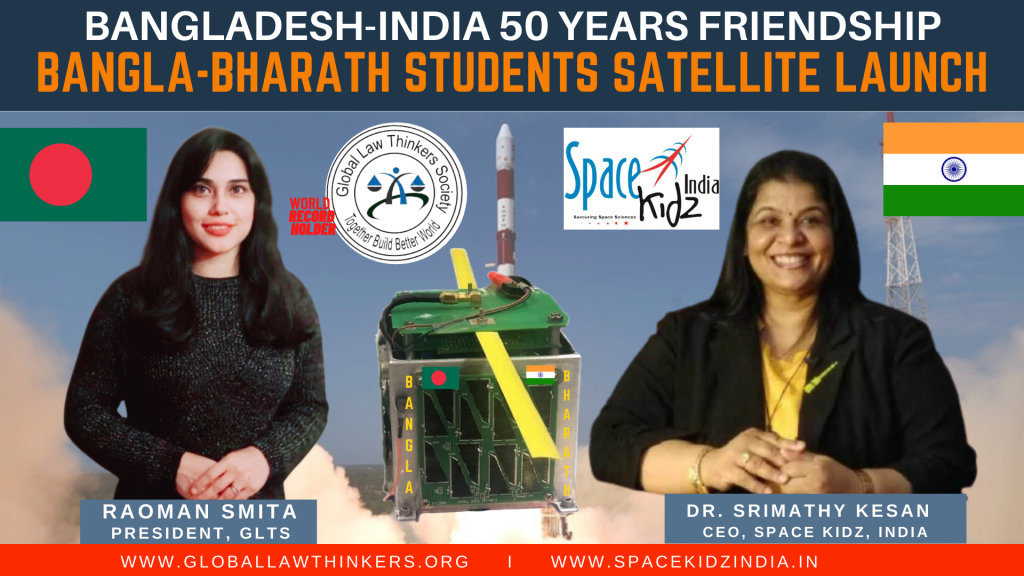 On the occasion of the 50th anniversary of Bangladesh's independence and the centenary of Bangabandhu's birth, the Global Law Thinkers Society, a world record holder, Bangladesh's Global Youth Organization and India's leading and technology incubator "Spacekidz India" India has signed a Memorandum of Understanding (MoU) for "Bangla-Bharath Students Satellite". This MOU Signing Ceremony program held online on 25th January 2021 at 8PM (Bangladesh Time) and India Time 7.30PM.
Project plan is-Bangladeshi and Indian students together will build a satellite and launch it from India by June on the occasion of 50 years of Friendship between India and Bangladesh dedicated to Mujibyear of Bangladesh. Together we aimed at creating the next generation of scientific thinkers and grow interest in space education.
MOU was signed by Raoman Smita, President, Global Law thinkers Society (GLTS) and DR. Srimathy Kesan, CEO, Space Kidz, India. Other Guests from Bangladesh and India are: Mahir Daiyan, Country LEader,GLTS Bangladesh, Deepak Kumar, Founder Chairperson, Smiles4millions and Vinay Kumar ToLambia, Assistant Director Indian Institute of Governance and Leadership.
This was a historical moment for Bangladesh and India that new generation has taken the friendship between two countries to next level.